Dryer Vent Cleaning Oklahoma City OK
Dryer vent cleaning needs to be done because they can clog when enough lint accumulates in your ventilation system to cause a blockage. Dryer vents can clog in a variety of ways. For one, a lengthy distance on a dryer ventilation system increases the likelihood of bends and curves in the system, where lint is most likely to collect. Second, dryer ventilation tubes are made from pliable plastic or foil, which can be easily crushed or dented given enough pressure. Finally, a poorly connected ventilation or dryer vent screen can cause lint to trap. Some ventilation screens serve to prevent animals from accessing the ventilation, but these screens can also create a barrier for lint.
Call Clean Sweep Carpets today at 405-532-2280, or send us your contact information by clicking on the button below, and we'll get back to you as soon as possible.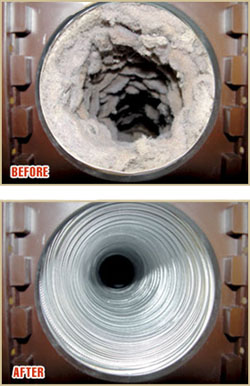 When lint builds in your dryer vent, it blocks the flow of air from the dryer to the outdoor vent, creating tremendous levels of heat that could lead to a fire. This heat can cause highly flammable particles like lint and clothing to catch fire. By having your dryer vent cleared of any lint or debris, you lessen the likelihood of a fire occurring due to a blocked fire vent.You should have your dryer vent inspected and cleaned at least once a year, depending on how frequently you use it. The risk of a dryer vent fire is the most important reason to have your dryer vent properly cleaned. The United States Fire Administration recommends that you have your dryer vent cleaned periodically by a qualified service professional, because an estimated 2,900 dryer fires are reported in residential buildings each year, resulting in 5 deaths, 100 injuries, and an upward of $35 million dollars in property damage.
Single family homes
• Condominiums
• Townhouses
• Apartments
• Any business that uses a clothes dryer —Day care centers, schools, physical therapy offices, animal hospitals, hair dressers, etc.
"The more you use your dryer, the more you need our service."
We offer dryer vent cleaning in the Oklahoma City area, including Moore, Norman, Bethany, Yukon, and all cities in the area
Leather Repair Oklahoma City OK
Portable Buildings Oklahoma City OK
Signs, Banners, & Car Wraps Oklahoma City OK