On the multi-tiered feature, there are 3 possible levels to utilize.
Tier Level 1 acts just like a normal web page would, the user  just clicks on the tab to get to whatever information is there, and they want to see. Normal text, illustrations, images, etc.
Tier Level 2
is just like level 1, only now you can give the user choices, guiding the user  about which way to go when they come to a fork in the road. For instance,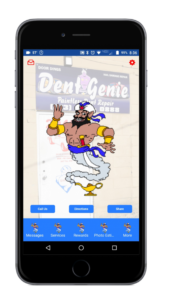 the user may see a tab that reads "Services" for a dent removal business.*  Then they may see two options (or more) regarding information about normal door ding repairs, and another option concerning hail damage repair. Or a third option may talk about your service concerning leased cars that have to be turned back in the dealer,  or even another service you offer like windshield repair, or headlight restoration. and what you offer in that area. After they click on "Services",  they see a multitude of options available, and yet the real estate (or footprint) is only 1 tab or button in the navigation bar on the page, thus making all this information that's accessible more efficient in the scheme of things.
*Click on the PWA above and check out the "Services" tab to see what a 2nd level tier looks like.
Tier Level 3
takes it a step further, of course. For instance, a detail business may elect to have a "Services" tab that gives the user the option of choosing "Auto Detailing", and the different packages and options available would be listed on different pages from there, like "Package A", Package B, etc.
Or under the "Services" tab, next to the "Auto Detailing", could be the detailing information on RV's, Boats, and Aircraft, with the content and pictures under each tab.  Remember, there was only one link on the navigation bar that would lead to all this information.  Please note that on all these examples, links to websites or particular pages on your website make it super easy to get to information and content you've already created.
By the way, from a SEO point of view, search engines, particularly Google,
are indexing PWA's because of their secure status, (which ours is), and because it's a mobile site, a link to a website or particular page would be an incoming link to that URL, thus encouraging them to index that page higher in the search engine also!
As we've mentioned before, other features and  options exist,  which can be added on an A La Carte basis. Give us a call: 662-324-3545 to answer any questions about what features may best handle your needs.
Back To Frequently Asked Questions
Sign Up Today for GrabMyCard.com
Tier Level 3